TENSHO OFFICE Shimbashi Akarenga Street ANNEX
TENSHO OFFICE Shimbashi Akarenga Street ANNEX
Available rooms
Status
Room
number
Size

(㎡)

Capacity


(persons)

Rent


(JPY)

Common
service fee


(JPY)

Monthly
total


(JPY)

Room type
Rough estimate

Available



403
29.02m2
10〜16
330,000yen
33,000yen
363,000
yen
Completely
Private room
Quote online
now

Available



405
24.07m2
6〜10
275,000yen
33,000yen
308,000
yen
Completely
Private room
Quote online
now

Available



505
24.07m2
6〜10
275,000yen
33,000yen
308,000
yen
Completely
Private room
Quote online
now

Available



602
34.77m2
10〜17
374,000yen
33,000yen
407,000
yen
Completely
Private room
Quote online
now
View all
TENSHO OFFICE Shimbashi Akarenga Street ANNEX is...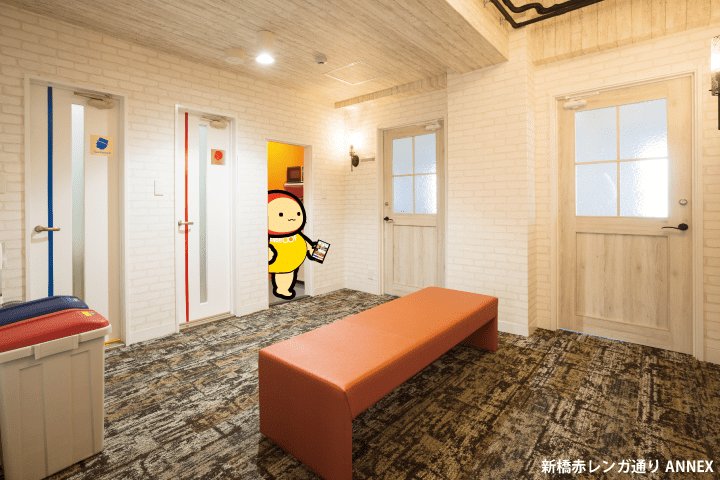 An attractive office building with spacious rooms
TENSHO OFFICE Shimbashi ANNEX is characterized by its large 20m2 to 34m2 rooms. It is unusual among the TENSHO OFFICE range for a building to have exclusively large rooms, and this is one of our most popular buildings.
About TENSHO OFFICE Shimbashi Akarenga Street ANNEX
Features

This building provides the opportunity for you to use a "Shimbashi, Minato-ku" address on your website, business cards, etc.

Facilities and services

All rooms are self-contained with their own windows and are individually air conditioned, enabling you to create an office space that is most comfortable for you.

Charges and rooms

Backed by the might of TENSHO OFFICE, both initial costs and running costs for TENSHO OFFICE Shimbashi ANNEX are low!

Map and access

TENSHO OFFICE Shimbashi ANNEX is in a prime location 3 minutes' walk from JR Shimbashi Station, 3 minutes' walk from Shimbashi Station on the Tokyo Metro Ginza Line, and 8 minutes' walk from Toranomon Station on the Tokyo Metro Ginza Line.
TENSHO OFFICE Shimbashi Akarenga Street ANNEX
FAQ
Can I move to a different room while my contract is current? Is there a cost for doing so?

It is possible to move to a different building or room.
If there is a difference between the incoming agreement fees for the two buildings or rooms, a fee equal to the difference will be charged.
55,000 yen → 110,000 yen: The difference of 55,000 yen must be paid.
110,000 yen → 55,000 yen: The difference of 55,000 yen will not be returned.



*People who execute a contract during a campaign for a newly completed building are subject to some rules on moving.

Is the Internet available for use straight away? (wired LAN, wireless LAN) (Must I have a contract with a provider?)
Is there a fee?

If you set up personal computer and LAN cables in your room, you can use the Internet (wired LAN) for free from the day you execute the contract.
There is no need to enter into a contract with a provider.
In some buildings, Wi-fi (wireless LAN) can be used in the conference rooms and open space areas.



*The rooms have wired LAN only, but you can use wireless LAN if you set up the environment yourself.
TENSHO OFFICE Shimbashi Akarenga Street ANNEX
Youtube video
The reasons for Low-prices
You do not need unnecessary expenses!
Compare the difference!
Genaral office space for rent

when you sign an agreement

Contract fee
Administration fee
Deposit
First month' cleaning expense
Guarentee charge
Examination fee
Gratuity fee
Support fee
First month' rent
Others

Only this!

Contract fee
First month' rent and
common service fee

during a tenancy

Rent
Annual fee
Mail custody charge
Reception room usage fee
Internet charge
Renewal fee
Relocation handling fee
Office furniture rental fee
Meeting room usage fee
Others

Only this!

Rent and common service fee

when you move out

Restoration fee
Cleaning expense

Free!
Shimbashi Area guide
Characteristics of Shimbashi

Shimbashi is in Minato Ward, with Ginza spreading out to the north and Toranomon spreading out to the west. To the east of Shimbashi Station is Shiodome, which is familiar to many as the location of Caretta Shiodome and Nittele Tower, which is the headquarters of Nippon Television.
There are several large parks nearby, so this area offers both nature and an office district.

Shimbashi is therefore widely known as an office workers' district.

SL Square in front of the station is often discernible as the backdrop for curbside interviews broadcast on television.

Thanks to the high number of buildings here, the abundant restaurants do a roaring trade at both lunchtime and in the evenings.

There are also many cozy privately owned eateries in the off-streets, and one of the charms of Shimbashi is the fusion of clusters of well-maintained, modern high-rise buildings and the profusion of stores that exude quite a different retro air.

In recent years redevelopment has been underway mainly around Shimbashi Station, so the area promises future growth.

Types of business that often use offices in Shimbashi

As expected of an area known for being an office workers' district, many businesses have established offices in Shimbashi. It is also close to Shiodome and Toranomon Hills, so it is the perfect place to cultivate a new business.
TENSHO OFFICE has three offices in Shimbashi. The Shimbashi ANNEX, Shimbashi Akarenga ST., and Shimbashi 5chome offices are mainly used by leading enterprises as satellite offices and business locations.

Average unit price per tsubo

Although there is seasonal fluctuation, Minato Ward where Shimbashi is located has the third highest average unit price per tsubo among Tokyo's municipalities at around JPY 14 million.
The average unit price per tsubo for Shimbashi itself is around JPY 20 million.
Given that Shimbashi is extremely popular as a business area, the unit price tends to be higher than the average.
For those wishing to curb costs, using a serviced office or SOHO is a good option.

Accessibility

The following 8 lines pass through Shimbashi Station:

1. JR Yamanote Line
2. JR Keihin-Tohoku Line
3. JR Tokaido Line
4. JR Yokosuka Line
5. JR Yokosuka/Sobu Line
6. Tokyo Metro Ginza Line
7. Toei Asakusa Line
8. Yurikamome

With high numbers of workers commuting here from all areas, Shimbashi has extremely good access to transportation.
Eight lines, including JR Yamanote Line, pass through Shimbashi Station, so most major stations in the Tokyo metropolitan area can be accessed in no more than 30 minutes.
Shimbashi is also within walking distance of Shiodome and Toranomon, so it is very conveniently located.