TENSHO OFFICE Higashi-shinjuku
TENSHO OFFICE Higashi-shinjuku
Available rooms
Status
Room
number
Size

(㎡)

Capacity


(persons)

Rent


(JPY)

Common
service fee


(JPY)

Monthly
total


(JPY)

Contract
fee


(JPY)

Room type
Rough estimate

Available



201
3.12m2
1
50,600yen
7,700yen
58,300
yen
55,000
yen
Completely
Private room
Quote online
now

Available



209
9.79m2
6
168,300yen
16,500yen
184,800
yen
110,000
yen
Completely
Private room
Quote online
now

Available



210
10.47m2
6
165,000yen
22,000yen
187,000
yen
110,000
yen
Completely
Private room
Quote online
now

Available



211
8.45m2
4〜5
132,000yen
16,500yen
148,500
yen
110,000
yen
Completely
Private room
Quote online
now

Available



303
3.30m2
1
52,800yen
7,700yen
60,500
yen
55,000
yen
Completely
Private room
Quote online
now

Available



401
4.87m2
2
77,000yen
11,000yen
88,000
yen
110,000
yen
Completely
Private room
Quote online
now

Available



406
9.79m2
6
168,300yen
16,500yen
184,800
yen
110,000
yen
Completely
Private room
Quote online
now

Available



407
10.47m2
6
165,000yen
22,000yen
187,000
yen
110,000
yen
Completely
Private room
Quote online
now
Mid Oct
Available

409
13.87m2
6〜8
220,000yen
22,000yen
242,000
yen
110,000
yen
Completely
Private room
Quote online
now

Available



505
4.62m2
2
73,700yen
11,000yen
84,700
yen
110,000
yen
Completely
Private room
Quote online
now

Available



509
20.88m2
10〜12
319,000yen
33,000yen
352,000
yen
110,000
yen
Completely
Private room
Quote online
now

Available



609
13.87m2
6〜8
220,000yen
22,000yen
242,000
yen
110,000
yen
Completely
Private room
Quote online
now
Early Oct
Available

702
3.12m2
1
50,600yen
7,700yen
58,300
yen
55,000
yen
Completely
Private room
Quote online
now

Available



703
3.30m2
1
56,100yen
7,700yen
63,800
yen
55,000
yen
Completely
Private room
Quote online
now
Late Oct
Available

808
5.30m2
2
84,700yen
11,000yen
95,700
yen
110,000
yen
Completely
Private room
Quote online
now

Available



809
9.79m2
6
168,300yen
16,500yen
184,800
yen
110,000
yen
Completely
Private room
Quote online
now
Late Oct
Available

810
10.47m2
6
165,000yen
22,000yen
187,000
yen
110,000
yen
Completely
Private room
Quote online
now

Available



811
8.45m2
4〜5
132,000yen
16,500yen
148,500
yen
110,000
yen
Completely
Private room
Quote online
now
Late Oct
Available

812
13.87m2
6〜8
220,000yen
22,000yen
242,000
yen
110,000
yen
Completely
Private room
Quote online
now

Promotion



901
75.53m2
20〜30
583,000yen


533,500yen

165,000yen
748,000
yen
698,500
yen
110,000
yen
Completely
Private room
Quote online
now
View all
TENSHO OFFICE Higashi-shinjuku is...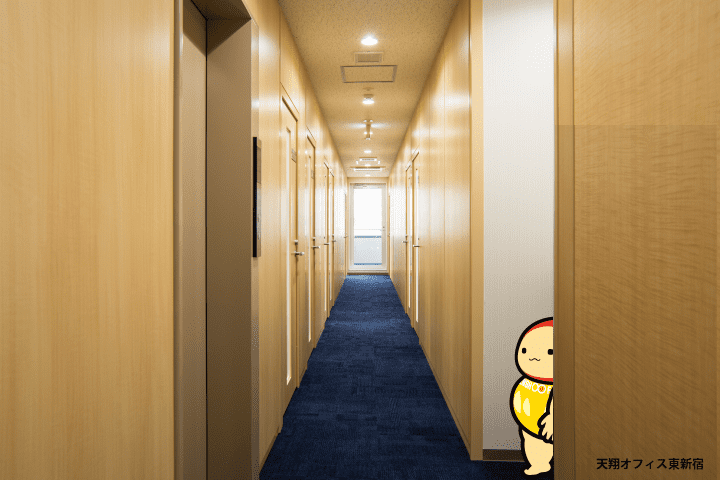 Offices on the 9th and 10th floor can be used as both office space and residential space.
Start your business life with our furnished room.
To meet all needs of our customer, we provide various sizes of office spaces which are from one person to 12 people on the 2nd to 8th floor.
We are now working on to provide large office can be used as SOHO office. They are furnished and are able to double as office space and residential space.
About TENSHO OFFICE Higashi-shinjuku
Features

The building is in a prime location close to the station servicing 2 train lines. It provides the opportunity for you to use a "Shinjuku-ku, Tokyo" address on registrations, business cards, etc.
Also, 9th and 10th floor, SOHO space can be resistered as your residency.

Facilities and services

Each self-contained room is individually air conditioned, enabling you to create an office space that is most comfortable for you. Each office also has a dedicated delivery locker for parcels delivered during your absence.

Charges and rooms

Both initial costs and running costs for TENSHO OFFICE Higashi Shinjuku are low! The costs are very reasonable because the entire building is offered in a single lease.

Map and access

TENSHO OFFICE Higashi Shinjuku is 1 minute walk from Higashi Shinjuku Station on the Tokyo Metro Oedo Line and Tokyo Metro Fukutoshin Line.
TENSHO OFFICE Higashi-shinjuku
Youtube video
The reasons for Low-prices
You do not need unnecessary expenses!
Compare the difference!
Genaral office space for rent

when you sign an agreement

Contract fee
Administration fee
Deposit
First month' cleaning expense
Guarentee charge
Examination fee
Gratuity fee
Support fee
First month' rent
Others

Only this!

Contract fee
First month' rent and
common service fee

during a tenancy

Rent
Annual fee
Mail custody charge
Reception room usage fee
Internet charge
Renewal fee
Relocation handling fee
Office furniture rental fee
Meeting room usage fee
Others

Only this!

Rent and common service fee

when you move out

Restoration fee
Cleaning expense

Free!
Shinjuku Area guide
What sort of place is Shinjuku?

Shinjuku is a giant metropolis known as Japan's premier downtown district and is visited not only by Japanese people but by huge numbers of foreign tourists. The east side of Shinjuku Station is known as a commercial area where consumer electronics stores and department stores engage in vigorous competition.

In contrast, the west side of Shinjuku Station is an office district of high-rise buildings such as Shinjuku Sumitomo Building (popularly known as the Sumitomo Triangle Building) and Shinjuku Mitsui Building, not to mention Tokyo Government Office. As the district at the forefront of business, it is teeming with activity day in and day out. Many companies, from large businesses to up-and-coming IT venture businesses in all industries and all lines of business, have their headquarters or Tokyo branches in Shinjuku.

There is also a large number of luxury hotels in the Shinjuku area, including the Park Hyatt Tokyo, Hilton Tokyo, and Keio Plaza Hotel. There are also plenty of large parks that are normally a rarity in the city center, so taking a walk in the huge Shinjuku Central Park or Shinjuku Gyo-en and experiencing nature through the seasons is a great idea when you want to refresh your mind.

Where is Shinjuku?

Of the 23 wards of Tokyo, Shinjuku is surrounded by Chiyoda Ward, Shibuya Ward and Toshima Ward. Shinjuku is located in the south of Shinjuku Ward. The metropolis of Shinjuku is surrounded by Takadanobaba to the north, Nishi-Shinjuku with its rows of high-rise office buildings to the west, and other well-known office districts such as Iidabashi and Yotsuya to the east.

What is access to Shinjuku like?

Shinjuku has among the best accessibility in the Tokyo metropolitan area. Shinjuku Station was listed in the Guinness World Records in 2007 as being the "world's business transport hub", with as many as 3.64 million passengers per day. Adjacent to Shinjuku's huge terminal are other stations: Shinjuku-sanchome Station, Shinjuku-nishiguchi Station and Seibu-Shinjuku Station. Combined, they are serviced by 17 lines. They provide top-class rapid access from the Shinjuku district not only to all the main areas within the Tokyo metropolitan area but also to the suburbs, such as the Tama district, Chiba, Saitama and Kanagawa. There is also a bus terminal called Shinjuku Expressway Bus Terminal, which is the start and end point for numerous express buses, so it is a gateway for people visiting from regional areas.