TENSHO OFFICE Ochanomizu
TENSHO OFFICE Ochanomizu
Available rooms
Status
Room
number
Size

(㎡)

Capacity


(persons)

Rent


(JPY)

Common
service fee


(JPY)

Monthly
total


(JPY)

Room type
Rough estimate

Available



207
14.10m2
8
176,000yen
22,000yen
198,000
yen
Completely
Private room
Quote online
now

Available



208
14.10m2
8
176,000yen
22,000yen
198,000
yen
Completely
Private room
Quote online
now

Available



209
12.37m2
8
154,000yen
22,000yen
176,000
yen
Completely
Private room
Quote online
now

Available



213
6.24m2
3
84,700yen
16,500yen
101,200
yen
Completely
Private room
Quote online
now
Early Jun
Available

403
5.29m2
2
71,500yen
16,500yen
88,000
yen
Completely
Private room
Quote online
now

Available



408
14.10m2
8
176,000yen
22,000yen
198,000
yen
Completely
Private room
Quote online
now

Available



509
12.37m2
8
154,000yen
22,000yen
176,000
yen
Completely
Private room
Quote online
now

Available



609
10.46m2
5~6
132,000yen
22,000yen
154,000
yen
Completely
Private room
Quote online
now
View all
TENSHO OFFICE Ochanomizu is...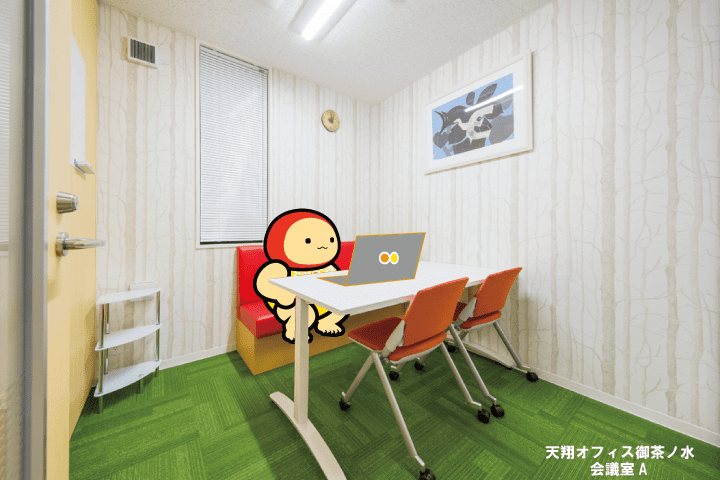 Impressively light and expansive open space
TENSHO OFFICE Ochanomizu is in a prime location one street back from Sotobori Dori and within walking distance of JR.
To meet customers' diverse needs, the building has both large rooms that seat 15 people and small rooms for 2 people.
About TENSHO OFFICE Ochanomizu
Features

Leasing this building means you can use a "Kanda Awajicho, Chiyoda-ku" address on your official registrations, business cards, etc.

Facilities and service

Each self-contained room is individually air conditioned, enabling you to create an office space that is most comfortable for you. Each office also has a dedicated delivery locker for parcels delivered during your absence.

Charges and rooms

Both initial costs and running costs for TENSHO OFFICE Ochanomizu are low! The costs are very reasonable because the entire building is offered in a single lease.

Map and access

TENSHO OFFICE Ochanomizu is 5 minutes' walk from Ochanomizu Station.
It is also in a very convenient location for commuters, being 2 minutes' walk from Ogawamachi and Awajicho Stations.
TENSHO OFFICE Ochanomizu
FAQ
Can I install my own Internet connection?

The telecommunications company will need to investigate this in advance, so please directly ask the telecommunications company you are going to enter into a contract with.
(If your room has been assigned: Please convey this information to the telecommunications company and ask them to investigate the possibility of installing a connection.)
TENSHO OFFICE Ochanomizu
Youtube video
The reasons for Low-prices
You do not need unnecessary expenses!
Compare the difference!
Genaral office space for rent

when you sign an agreement

Contract fee
Administration fee
Deposit
First month' cleaning expense
Guarentee charge
Examination fee
Gratuity fee
Support fee
First month' rent
Others

Only this!

Contract fee
First month' rent and
common service fee

during a tenancy

Rent
Annual fee
Mail custody charge
Reception room usage fee
Internet charge
Renewal fee
Relocation handling fee
Office furniture rental fee
Meeting room usage fee
Others

Only this!

Rent and common service fee

when you move out

Restoration fee
Cleaning expense

Free!
Ochanomizu Area guide
Characteristics of Ochanomizu

Ochanomizu is recognizable as the location of several universities, including Tokyo Medical and Dental University, Nihon University and Meiji University. There is a lot of student and office worker traffic, and the area is widely known for being well-lit and safe even at night.

While the south side of Ochanomizu Station is vibrant with numerous shopping centers and restaurants, the north side consists mostly of universities and business complexes. This difference in atmosphere between the north and south sides of the station is a characteristic of Ochanomizu.

The streetscape has a modern feel due to the many high-rise buildings, but the charm of Ochanomizu is the allure of nature along the Kanda River that flows close to the station and the peacefulness found at historical structures such as Kanda Shrine and Yushima Seido.

Types of business that often use offices in Ochanomizu

Many leading enterprises and finance institutions are concentrated in Chiyoda Ward where Ochanomizu is located, and it is indeed Japan's political and economic heart. There are rows of high-rise buildings, with ample rental office space, so many IT-related companies and venture businesses, both Japanese and foreign-owned, have set up offices here.

TENSHO OFFICE Ochanomizu is often used by IT-related businesses. There are businesses of various types found here, so the area is most suitable for starting a new business.

Average unit price per tsubo

Although there is seasonal fluctuation, Chiyoda Ward where Ochanomizu is located has the second highest average unit price per tsubo among Tokyo's municipalities at around JPY 16 million.

The average unit price per tsubo for Ochanomizu itself is around JPY 8 million. This is reasonable, at about half the unit price for Chiyoda Ward as a whole. It is perfect for those considering both price and convenience in starting a business.

Accessibility

The following 3 lines pass through Ochanomizu Station:

1.JR Chuo Line

2.JR Sobu Line

3.Tokyo Metro Marunouchi Line

It is about 5 minutes to Tokyo Station and about 12 minutes to Ikebukuro Station on the Marunouchi Line, and about 9 minutes to Shinjuku on the Chuo Line.
Accessibility is excellent, being no more than 30 minutes to the major business districts in the Tokyo metropolitan area.

Furthermore, Shin-Ochanomizu Station and Ogawamachi Station are within walking distance, so the Chiyoda Line and the Shinjuku Line can also be used in addition to the lines listed above, making this area one of the most convenient in the entire Tokyo metropolitan area.
The transit bus operated by Chiyoda Ward provides transportation throughout Chiyoda Ward for JPY 100, and Toei buses provide access to Akihabara Station and Tokyo Station.