List of serviced offices in Tokyo
Search by locations in Tokyo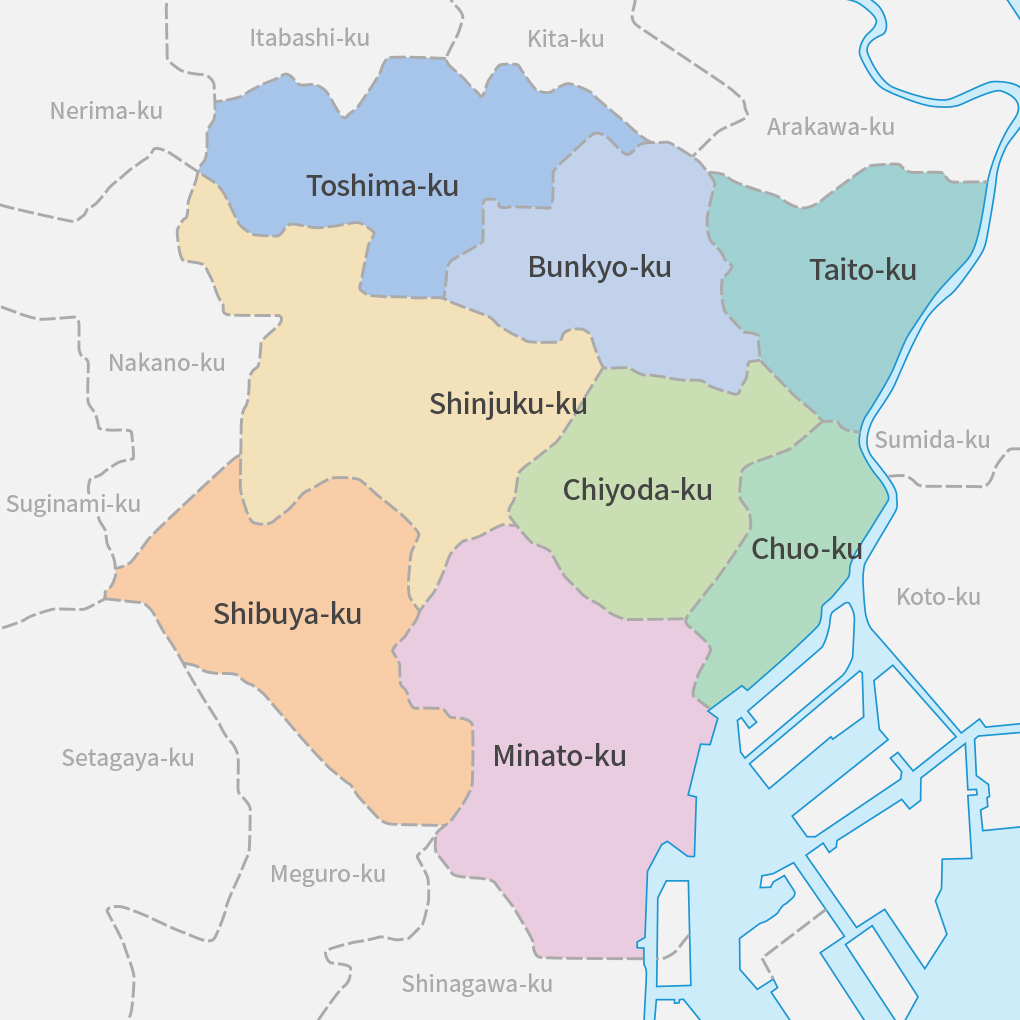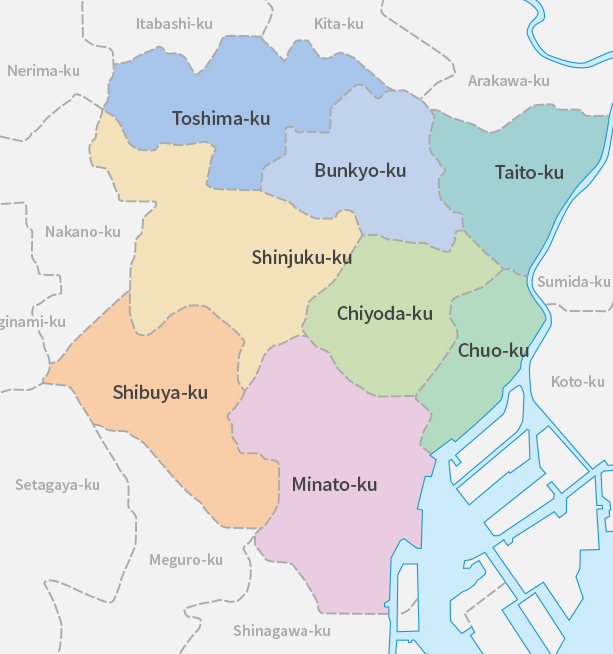 Chiyoda-ku , Chuo-ku ,Taito-ku(Akihabara , Ueno) area
Minato-ku (Shimbashi , Akasaka) area
Toshima-ku , Bunkyo-ku (Ikebukuro , Korakuen) area
Shinjuku-ku , Shibuya-ku (Takadanobaba , Yoyogi) area
Advantages of serviced offices
in Tokyo
Tokyo is one of the world's leading business cities and the center of not only the Japanese economy but also the global economy, with headquarters of companies in every field, including commerce, finance, and publishing. Among them, the major business areas of Otemachi, Shinjuku, Ikebukuro, and Shibuya, as well as other popular office areas such as Shimbashi, Ginza, Roppongi, Akasaka, and Minami Aoyama, are home to many companies, from large domestic and foreign corporations to small and medium-sized companies with unique technologies and venture companies with new ideas that will open the future.
In doing business, it is essential to have the trust of well-funded individuals and large, well-known clients. To gain that trust, not only your track record, but also the "location of your office" will have a significant impact on the credibility of your business. The location of the office enhances the company's credibility and motivates employees to work in one of the world's leading cities, which are important factors for the company's significant growth.
On the other hand, setting up an office in a prestigious location in Tokyo involves significant costs just to set up the office, including not only monthly rent but also initial expenses such as deposit, key money, security deposit, brokerage fees, and administrative fees. Some may have given up on expanding in Tokyo because of the cost involved.
However, with serviced office, you can set up an office in one of the world's leading business areas at a low cost.
Some serviced offices do not require a security deposit, brokerage fee, renewal fee, or restoration fee when moving out, which can significantly reduce initial costs.
You can choose from semi-private or fully private offices to secure your own dedicated space, and the size of the office can vary from 1 to 10 or more people, and you can flexibly set up, downsize, expand, or relocate your office according to the size of your business or the number of employees.
In most cases, the necessary facilities are also provided from the beginning in the case of serviced offices. The office furniture (desks and chairs), office automation equipment, and Internet access are all provided so that you can start working the same day you sign the contract, reducing the cost of equipment and the time and effort required to furnish your office, allowing you to concentrate on your business.
Thus, by using serviced offices, you can set up an office in a popular office area in central Tokyo while keeping costs low. In addition, having an office in a high-profile area gives you credibility with clients.
Why not choose a serviced office to realize the ideal office you envision?
Features of Tokyo
Tokyo, the capital of Japan, is the political and economic center of the country and one of the largest cities in the world.
The headquarters of companies in all areas of commerce, finance, and publishing are located here, making it the center of not only the Japanese economy, but the world economy as well.
With a well-developed transportation network including rail systems, buses, and highways, there is almost no place in Tokyo that cannot be reached by train and on foot. The Shinkansen bullet trains run from Tokyo, Ueno, and Shinagawa stations, making it easy to travel from the center of the city to other parts of the country.
Major office areas in Tokyo include the Marunouchi, Otemachi, Nihombashi, and Kyobashi areas around Tokyo Station, which are home to offices of large domestic and foreign companies. Other popular office areas include Shimbashi, Ginza, Shinagawa, Shibuya, and Ikebukuro, as well as Roppongi, Akasaka, and AzabuJuban, international areas with many embassies and hotels, Minato-ku is known as a popular area for foreign IT companies. These areas are home to a variety of high-rise office buildings, including Toranomon Hills, Roppongi Hills, and Tokyo Midtown, as well as large and medium-sized office buildings. Recently, there has been an increase in the number of rental offices, shared offices, co-working spaces, and other types of offices to suit flexible work styles.
Tensho Office operates rental offices in various locations in Tokyo, including the Tokyo Station area, Shimbashi, Shibuya, Shinjuku, and Ikebukuro. All offices are within a 5-minute walk from the nearest station and all rooms are private. The initial cost is only "contract fee + first month's rent and common service fee," and there are no utilities, renewal fees, or restoration fees when moving out, making this an office with low running costs. Whether you are a start-up company, a corporation considering relocating, or a sole proprietor, we can provide the best office space for your business needs at the lowest possible cost.