TENSHO OFFICE Akihabara Manseibashi
TENSHO OFFICE Akihabara Manseibashi
Available rooms
Status
Room
number
Size

(㎡)

Capacity


(persons)

Rent


(JPY)

Common
service fee


(JPY)

Monthly
total


(JPY)

Room type
Rough estimate

Available



204
9.00m2
5
136,400yen
22,000yen
158,400
yen
Completely
Private room
Quote online
now

Available



207
4.32m2
2
79,200yen
11,000yen
90,200
yen
Completely
Private room
Quote online
now

Available



609
2.16m2
1
47,300yen
7,700yen
55,000
yen
Completely
Private room
Quote online
now
Late May
Available

809
16.31m2
8
242,000yen
33,000yen
275,000
yen
Completely
Private room
Quote online
now

Available



906
8.11m2
4
136,400yen
22,000yen
158,400
yen
Completely
Private room
Quote online
now
Mid Jun
Available

1202
5.94m2
3
110,000yen
16,500yen
126,500
yen
Completely
Private room
Quote online
now
Mid Jun
Available

1203
10.08m2
4
159,500yen
22,000yen
181,500
yen
Completely
Private room
Quote online
now
Mid Jun
Available

1204
18.31m2
10
297,000yen
33,000yen
330,000
yen
Completely
Private room
Quote online
now
View all
TENSHO OFFICE Akihabara Manseibashi is...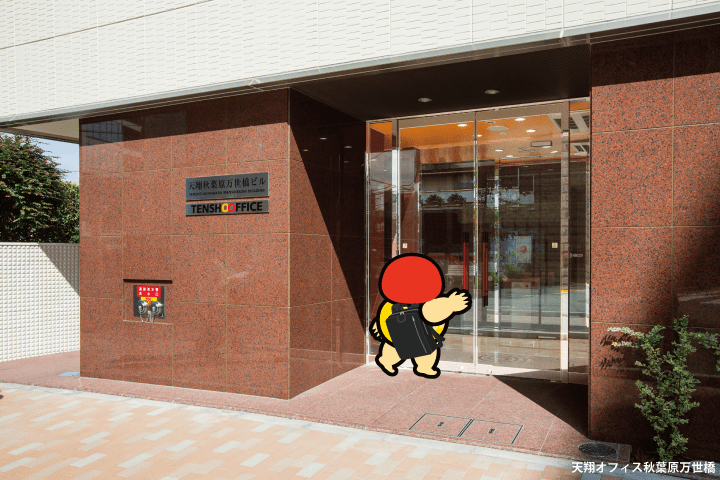 A tranquil atmosphere facing the Kanda River, even in the heart of the city
Access is excellent from the suburbs to Akihabara, which is a junction of numerous train lines.
The building provides 5 conference rooms, so it enjoys a favorable reputation among companies with numerous visitors. The open space on the 10th floor is equipped with Wi-Fi, making it ideal for breaks and computer work.
About TENSHO OFFICE Akihabara Manseibashi
Features

Located on the intersection of 5 train lines, the building provides the opportunity for you to use a "Sudacho, Chiyoda-ku" address on official registrations, business cards, etc.

Facilities and services

Each self-contained room is individually air conditioned, enabling you to create an office space that is most comfortable for you. Each office also has a dedicated delivery locker for parcels delivered during your absence.

Charges and rooms

Both initial costs and running costs for TENSHO OFFICE Akihabara Manseibashi are low! The costs are very reasonable because the entire building is offered in a single lease.

Map and access

TENSHO Akihabara Manseibashi Building is in a prime position 3 minutes' walk from Akihabara Station and 3 minutes' walk from Kanda Station on the Ginza Line.
TENSHO OFFICE Akihabara Manseibashi
FAQ
If a room is scheduled to become vacant, can I reserve it in advance?

We update information on vacancies on our website as they become available.
Please let us know the office (area) you are interested in, the number of users and the desired incoming date by entering these details on the Private Viewing Reservation form.

*We will contact you when your desired use start date approaches and a room is scheduled to be vacated.
*You can reserve a vacant room, but we cannot guarantee that we can execute a contract by your desired incoming date.
*Reservations for vacant rooms can only be made via email. Please note that we do not accept reservations over the telephone.

Is there a cleaning fee etc. when I evacuate?

We do not charge a fee for cleaning upon your evacuation.

*However, if you have installed fixtures etc., you are required to restore the original condition.
*If there is significant damage in desks, chairs, walls, etc., you may be required to pay the actual cost.
TENSHO OFFICE Akihabara Manseibashi
Youtube video
The reasons for Low-prices
You do not need unnecessary expenses!
Compare the difference!
Genaral office space for rent

when you sign an agreement

Contract fee
Administration fee
Deposit
First month' cleaning expense
Guarentee charge
Examination fee
Gratuity fee
Support fee
First month' rent
Others

Only this!

Contract fee
First month' rent and
common service fee

during a tenancy

Rent
Annual fee
Mail custody charge
Reception room usage fee
Internet charge
Renewal fee
Relocation handling fee
Office furniture rental fee
Meeting room usage fee
Others

Only this!

Rent and common service fee

when you move out

Restoration fee
Cleaning expense

Free!
Akihabara Area guide
Characteristics of Akihabara

Akihabara was previously notable as an electronics quarter, but it is now a center for anime, manga, maid cafes and other pop culture. On holidays when the streets are closed to traffic, this area is buzzing with not only Japanese visitors but also foreign tourists.

If you walk east toward Asakusa, the atmosphere suddenly changes and you can experience the old-world charm of the traditional downtown neighborhoods.
Here and there you can also spot vestiges from the days when this was the electronics quarter, so this area is characterized by its blend of rustic appeal and pop sensibility.

Akihabara is located between Ueno and Tokyo Station, in Taito and Chiyoda Wards.
Ueno to the north and Kanda to the south are within walking distance, and this excellent accessibility has spurred redevelopment of the area in front of Akihabara Station, which is undergoing a rapid transformation.

Types of business that often use offices in Akihabara

Akihabara has become renowned worldwide as a mecca of pop culture, so its popularity has been rising in recent years.
It is conveniently located and close to Ochanomizu, which is becoming a business district thanks to redevelopment, so this is the perfect area for starting a business.
TENSHO OFFICE Akihabara Manseibashi is often used by IT-related companies.

Average unit price per tsubo

Although there is seasonal fluctuation, Chiyoda Ward where Akihabara is located has the second highest average unit price per tsubo among Tokyo's municipalities at around JPY 16 million.
The average unit price per tsubo for Akihabara itself is around JPY 12 million.
This price is lower than that for Marunouchi and the area around Tokyo Station, which are also in Chiyoda Ward, so Akihabara is most suited to users who want convenience but want to keep costs down.

Accessibility

The 5 lines listed below pass through Akihabara Station.
These lines include not only JR lines but also the subway and a private railway, so access is good to both the city center and the suburbs.

1. JR Yamanote Line
2. JR Keihin-Tohoku Line
3. JR Chuo-Sobu Line
4. Tsukuba Express Line
5. Tokyo Metro Hibiya Line

It is 5 minutes to Tokyo Station and 4 minutes to nearby Ueno Station on the Yamanote Line, and even Shinjuku can be quickly accessed in only 18 minutes on the Sobu Line.
TENSHO OFFICE Akihabara Manseibashi is within walking distance of Kanda Station, Iwamotocho Station, Suehirocho Station, and Ochanomizu Station among others, as well as the subway, so it has extremely good access to transportation.