TENSHO OFFICE Shirokane
TENSHO OFFICE Shirokane
Available rooms
Status
Room
number
Size

(㎡)

Capacity


(persons)

Rent


(JPY)

Common
service fee


(JPY)

Monthly
total


(JPY)

Room type
Rough estimate
There are currently no vacancies available.
TENSHO OFFICE Shirokane is...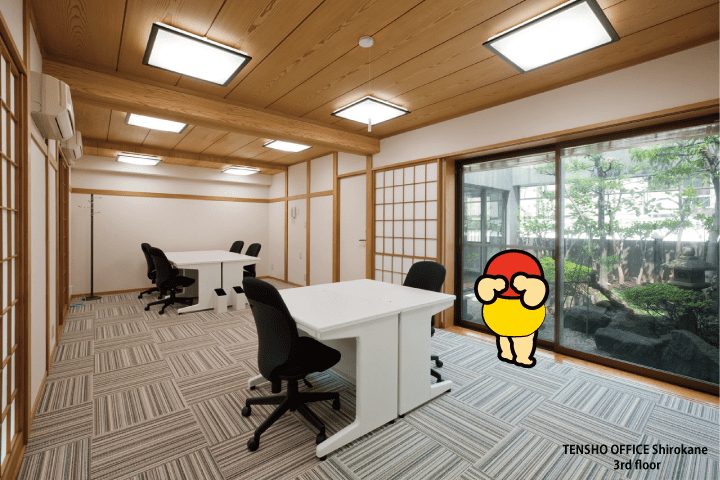 An office building with a refined atmosphere in an affluent neighborhood
TENSHO OFFICE Shirokane is located 3 minutes' walk from Shirokane-Takanawa Station. It enjoys superb access, being 12 minutes to Otemachi and 3 minutes to Roppongi-Itchome.
The building has classic western-style interiors, with a garden on the 3rd floor and an expansive rooftop on the top floor, so it is ideal for taking a break from work
About TENSHO OFFICE Shirokane
Features

This building provides the opportunity for you to use a "Shirokane, Minato-ku, Tokyo" address. Being the owners of this office building, we are able to offer especially low rates.

Facilities and services

All rooms are fully self-contained and individually air conditioned, providing a sophisticated and comfortable office space.

Charges and rooms

Both initial costs and running costs for TENSHO OFFICE Shirokane are low! The costs are very reasonable because the entire building is offered in a single lease.

Map and access

The building is 3 minutes' walk from Shirokane-Takanawa Station on the Mita and Namboku Lines. It also enjoys superb access, being 12 minutes to Otemachi Station and 3 minutes to Roppongi-Itchome Station.
TENSHO OFFICE Shirokane
FAQ
Can I use a dedicated telephone/FAX?

A telephone line is already installed in each room.
However, you must enter into a contract directly with a telecommunications company before you can use this line.
TENSHO OFFICE Shirokane
Youtube video
The reasons for Low-prices
You do not need unnecessary expenses!
Compare the difference!
Genaral office space for rent

when you sign an agreement

Contract fee
Administration fee
Deposit
First month' cleaning expense
Guarentee charge
Examination fee
Gratuity fee
Support fee
First month' rent
Others

Only this!

Contract fee
First month' rent and
common service fee

during a tenancy

Rent
Annual fee
Mail custody charge
Reception room usage fee
Internet charge
Renewal fee
Relocation handling fee
Office furniture rental fee
Meeting room usage fee
Others

Only this!

Rent and common service fee

when you move out

Restoration fee
Cleaning expense

Free!
Shirokane Area guide
Characteristics of Shirokane

Shirokane is located in Minato Ward and is renowned as an affluent residential area.
It has a type of name value, as seen in the popularity for a time of the term "Shiroganese" (referring to housewives in Shirokane who have the means to enjoy a life of leisure), and given the high prices and rents here, it has an established reputation as an area where many from the wealthy class live.

There are commercial facilities such as supermarkets around the station, with residential neighborhoods located a short distance away.
There are many parks and other greenery, creating a markedly tranquil environment even though it is in the city.

The area around Shirokane-Takanawa Station, which was developed in 2000, is undergoing redevelopment, and a stroll around the station reveals a surprising number of newly developed properties.
There was originally a dense cluster of small factories in this area and some of those city blocks remain even today, so if you go searching you may find aspects of the area that do not fit the usual image of Shirokane.

Types of business that often use offices in Shirokane

Shirokane is well-known as a residential area, but redevelopment has made it more convenient, so office demand is rising. It is especially popular with businesses that want to work in quiet surroundings.
Incidentally, TENSHO OFFICE Shirokane is often used by IT-related businesses.

Average unit price per tsubo

Although there is seasonal fluctuation, Minato Ward where Shirokane is located has the third highest average unit price per tsubo among Tokyo's municipalities at around JPY 14 million.

The average unit price per tsubo for Shirokane itself is around JPY 6 million.
This price is quite a bit lower than the prices for popular areas such as Toranomon, Shimbashi and Omotesando that are also in Minato Ward.
Considering the name value of "Shirokane", prices are reasonable.

Accessibility

Before the construction of Shirokane-Takanawa Station, the only means of transportation in Shirokane was private car or bus, so it was a somewhat inconvenient location for some people.
However, the opening of the line through Shirokane-Takanawa Station in 2000 has enhanced the area's convenience. The following 2 lines pass through Shirokane-Takanawa Station:

1.Tokyo Metro Namboku Line
2.Toei Mita Line

It is 7 minutes to Nagatacho and 12 minutes to Ichigaya Station on the Namboku Line, and access is good to the major business districts.
Although transfer to other lines is required, most of the major stations in the Tokyo metropolitan area can be reached within about 30 minutes, so this is an ideal area for starting a business.